Have you ever wondered how to send a warning 10,000 years into the future? Would you use a sign, a monument, or a symbol of danger? Would you tell a warning story that could be passed from generation to generation? Not many people think that far ahead, but governments faced with the problem of storing nuclear waste have had to study the kinds of messages that could be used to warn people in the deep future. Our own thinking on this issue has been influenced by the work of the Waste Isolation Pilot Plant (WIPP) in Carlsbad, New Mexico, the first long-term nuclear storage facility in the Unitied States.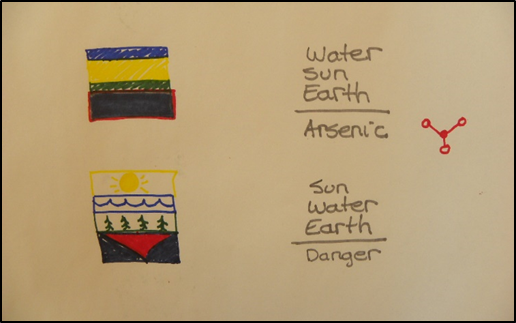 Less work has been done on long-term chemical waste issues. Yet, the current proposal to freeze arsenic under Giant Mine for long periods of time raises many of the same issues as nuclear waste. How do we keep people in the future from entering the arsenic chambers? How can we explain to them what must be done to keep the arsenic contained? Through community workshops and web-based reports, we  developed three comprehensive reports on communicating the Giant Mine arsenic hazard with people in the very distant future.
**NEW** Our peer-reviewed paper discussing Yellowknife community perspectives on communicating hazards to future generations is available online and open access:
Sandlos, J., Keeling, A., Beckett, C., and Nicol, R., "There Is a Monster under the Ground: Commemorating the History of Arsenic Contamination at Giant Mine as a Warning to Future Generations," Papers in Canadian History and Environment (PiCHE) no. 3 (2019): http://dx.doi.org/10.25071/10315/36516.
The first community report, "Communicating Danger" is an overview of the approach taken at WIPP and a discussion of how these ideas might be applied to Giant Mine:
The second report is a summary of the work done by the Communicating with Future Generation Working Group, established to facilitate information-sharing about the Giant Mine among key stakeholders and the governments managing the site (full meeting minutes from the group are posted below).
The third report is a record of a workshop with Yellowknives Dene Elders and local stakeholders where we put pen to paper to generate drawings, conceptual designs, and story ideas for communicating with future generations at Giant Mine. Many thanks to those who participated!
You can also read about this issue in stories for the magazine EdgeYK:
John Sandlos and Arn Keeling, "Danger! Danger!" EdgeYK Magazine
John Sandlos and Arn Keeling, "Giant Coverup," Edge YK Magazine
Our research was also featured in a CBC Radio Ideas feature produced by Garth Mullins, "Distant Future Warnings."
CFG Meeting Minutes
Below are links to the meeting records of the CFG Committee. Membership included representatives from the Yellowknives Dene First Nation, The City of Yellowknife, Aboriginal Affairs And Northern Development (AANDC), the Government of Northwest Territories (GNWT), Alternatives North, the NWT Mining Heritage Society, any other interested party that expresses a desire to participate and whose inclusion is agreed to by existing members.