February 23, 2017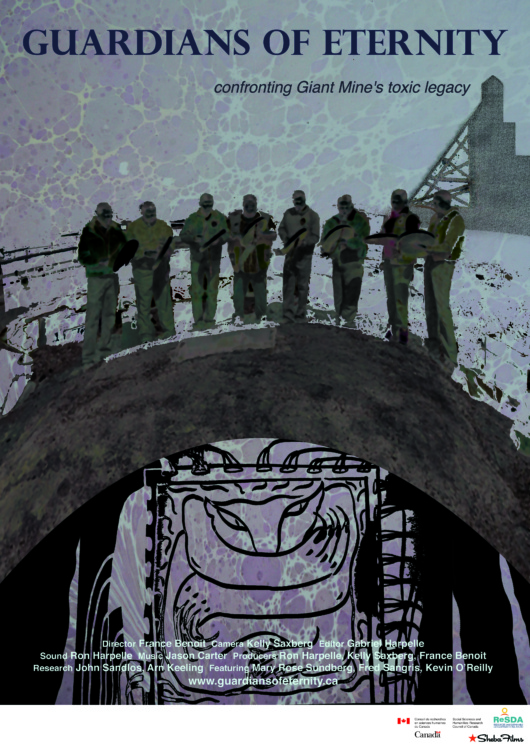 The Toxic Legacies project is pleased to announce that Guardians of Eternity, the documentary about the history and future of Giant Mine, is now freely available to stream online. Directed by Yellowknife filmmaker France Benoit and produced by ShebaFilms, Guardians of Eternity tells the disturbing story the Yellowknives Dene First Nation's experience of contamination and remediation of arsenic pollution at the mine. The film was a key early product of the Toxic Legacies partnership.
Released in October 2015, the film has been seen by audiences across Canada and beyond, reaching over 1100 viewers at hosted screenings. It was also featured at the Marda Loop Social Justice Film Festival and the John Wiley Lecture at the Canadian Association of Geographers' annual conference in 2016. The film was also positively reviewed in The Otter, the online magazine of the Network in Canadian History and Environment. It was also listed as one of the 10 best documentaries of 2016 by Canadian Dimension magazine in their "Alternative Year in Review."
Guardians of Eternity was funded through a Social Sciences and Humanities Research Council Partnership Development Grant, which funded the many research and outreach activities under the Toxic Legacies partnership. For us as researchers, it has been gratifying to see how film can convey the powerful and complex story of Giant Mine to diverse audiences. Hosted screenings have generated lively conversations with audiences about the long-term impacts of mineral development, industry regulation, environmental justice, and communicating with future generations. Now that it is freely and widely available, we hope the film will become part of creating a more positive future for Yellowknife and Giant Mine.